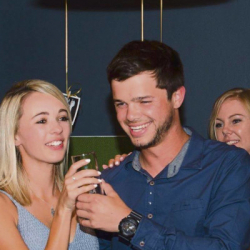 Latest posts by Daniel Badenhorst
(see all)
Bright winter parties are a lovely tradition that can be found in popular casinos. Attendees are treated to a festive atmosphere, the opportunity to win unique gifts, and the chance to have a good time at a New Year's show at these events. Storm International's holding managing director, Darren Keane, stated that the company planned a variety of events to celebrate Christmas and New Year's across all of its network entertainment units.
During the colder months, make it a point to visit network casinos and warm up by playing some of your favorite games. Furthermore, the winter is an excellent time to take a junket to Tbilisi, Riga, Minsk, or Yerevan. All guests who participate in Shangri La gaming excursions are automatically added to the guest list for all parties held at the establishment.
So, what do the Shangri-La casinos have in store for you on the last night of the year?
The unit's birthday is being celebrated at Shangri La Riga
Celebrations were held at the Shangri La Riga on the occasion of the hotel's second birthday, which occurred on December 14. On this particular day, an extravagant party was planned, with the Zaitsev Sisters providing entertainment for the guests. The guests were in for some witty banter, live music, delectable delicacies, and creative munchies.
Another aspect of the entertainment program is the distribution of substantial prizes. While the organizers have not revealed all of the event's details, participants can expect several pleasant surprises and unforgettable experiences.
Lexus exhibition at Minsk's Shangri-La
Giving away an automobile as the primary prize on New Year's Eve at the Shangri La Minsk has become a laudable custom that has become a tradition. The lucky winner this time has a good chance of driving away in a Lexus RX. The third and final installment of the Lexus exhibition is scheduled for December 21, 2019. There will not only be a drawing, but also a live show program, an incredible buffet reception prepared by casino chef Mark Ulrich, and a slew of other wonderful surprises. There will be a large number of presents. The guests who contributed the most to the celebration and had the most fun will each receive up to 125,000 gifts.
Stormy 20's Party at Shangri-La Tbilisi
Patrons of the "Shangri La Tbilisi" casino were invited to a lively Christmas event with the theme "Stormy 20s" on December 14, 2019. The facility's interior was designed in the appropriate style, and the staff was dressed in 1920s attire. A unique path to becoming a part of a great era!
The play's producers had planned a slew of entertaining twists and turn for the audience. Several lotteries were held, and participants had the opportunity to win large sums of money. Those who were more fortunate increased their wealth.
Avtandil Alikhanashvili, the casino restaurant's head chef, had created a one-of-a-kind holiday meal that impressed even the most discerning foodies.
The city's annual New Year's Eve celebration is known as "Shangri La Yerevan."
On December 27, 2019, the "Shangri La Yerevan" hosted an extravagant New Year's Eve party. Guests will enjoy a lavishly decorated festive environment, live music, an impressive performance program, and a slew of delightful surprises. The primary holiday event brought in seven million AMD.
The event attendees will, of course, be treated to a variety of entertainment and prizes, but they will also be treated to extraordinary delicacies. There will be a delicious food buffet. Darren Keane observed that this was an ideal time to visit Shangri La to partake in one's favorite activities, such as eating delectable food and experiencing the vibrant feel of the holiday, as well as having fun in the company of pleasant people.
A New Year's Eve trip to the legendary location known as "Shangri La"
A winter trip to the casino is a fun way to spend the time between Christmas and New Year's and If you want a vacation that is not only fashionable but also provides the highest level of service, book a junket in one of Storm International's apartments.
When the troops feel like it, they all go on hunting trips. To sign up for a trip like this, simply choose some days that work for you and call the casino to place an order for a tour. A personal manager will work with the company's organization.
Only the game chips will be your responsibility and participants in the junket receive complimentary transfers and hotel accommodations, as well as meals and access to all casino events. If you go on a junket trip during this time of year, you can instantly become a guest at each of the festive parties that are held throughout the winter season, participate in all of the available entertainment, and even participate in the casino's lotteries!
Additional information on the casino's network, junket tours, and New Year's holiday packages can be found on the official Shangri La websites.